Choose Your Own Path to Agile Leadership
Practice agile leadership theory alongside like-minded leaders in immersive, customizable offerings designed by the leaders in business and team agility. Unlike in other Scrum or agile courses, approved CAL Educators who offer Certified Agile Leadership demonstrate years of real-world experience and success coaching agile teams and supporting agile transformations. Our CAL Educators support your success beyond the classroom with a comprehensive resource library, and a strong alumni community.
The CAL program consists of three foundational certification modules: CAL Essentials, CAL for Teams, and CAL for Organizations. To master these concepts, take two prerequisite foundational modules, then progress onto Certified Agile Leader, which features a blend of validated practice, advanced education and peer-driven workshops.

(CAL) has provided me with a skill set and ability to convey an agile mindset and begin to make some changes within my organization to the extent that we are now going to hold a workshop with the 'C' suite.

Leaders today are striving to stay on top of rapidly changing business needs and must recognize rapid adaptation as critical to their success. You are now required to shift the way you think about your role as a leader, your relationship to your employees, and the culture of your organization.
Build a foundation in agile, cultivate a safe-to-fail mindset, and confidently guide any organization toward sustainable agility with any combination of these three certifications that best meets your leadership goals. Our Certified Agile Leadership (CAL) offerings are designed to bring positive change to your organization by helping you embrace the agile leadership model that fits you. Learn to lead agile teams by practicing agile principles and leveraging agility to drive sustainable improvements in any business.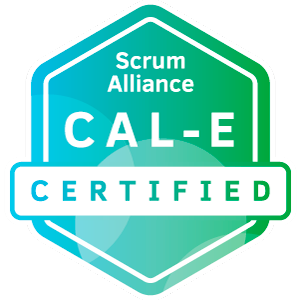 About Certified Agile Leadership Essentials
Certified Agile Leadership Essentials (CAL-E) modules bring awareness and understanding to the foundations of agile leadership. Discover the way agile leaders think, focus, and behave. The focus on agile leadership essentials equips you to embark confidently on the journey toward leading with agility and championing agile transformation in your workplace.
About Certified Agile Leadership for Teams
Agile teams require an alternative to the traditional leadership approaches of the past in order to navigate this volatile, uncertain, complex, and ambiguous world. CAL for Teams shows you how to create a safe-to-fail environment and foster a culture of transparency, inspection, and adaptation to allow for experimentation and continuous learning within your teams. The goal of this offering is to create awareness about the changing dynamics in today's world of work and equip leaders with the practices they need to lead their teams with agility.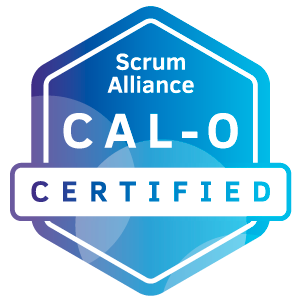 About Certified Agile Leadership for Organizations
C-suite leaders and executives are now required to shift the way that they think about their organizational culture and employees and become change agents. In CAL for Organizations, participants will gain knowledge, skills, and techniques that will help them to work toward sustainable agility for their organizations. The goal of this module is to bring awareness to the practices and principles of agility and how they apply to business/organizational agility. Through case studies and various models, participants will gain insight into how agile will and can work for their teams and organization.
Choose Your Combination
Our Certified Agile Leadership modules are designed to be taken on their own as a single day course or in combination with each other, based on the needs and goals of your agile journey.
About Certified Agile Leader (CAL)
Once you've completed a combination of two or more of CAL-E, CAL-T, or CAL-O, you are able to progress to CAL, a program that consists of advanced education, validated practice, and a peer-based workshop.
Why Scrum Alliance Certified Agile Leadership?
Highly Experienced Agile Educators
To be approved to provide Certified Agile Leadership, each Educator undergoes a rigorous application and vetting process, in which they must provide evidence that demonstrates years of agile leadership experience, proven instructional styles, student-oriented goals, and expertise in business agility.

A Practice-Based Experience
Certified Agile Leadership modules leverage proven instructional styles and peer-driven workshops to help aspiring agilists like you practice agile theory, leveraging an experience-based approach to help you truly understand business agility.

Join a Supportive Agile Alumni Community
The Scrum Alliance post-CAL community is here to help you navigate the real-world challenges you face as you become a truly agile leader. Following your certification, you'll enjoy unlimited access to our community to exchange resources and experiences that help you thrive.
Who Are Certified Agile Leadership Courses For?
CAL participants vary by professional background and work experience. The common thread is their desire to enhance their workplaces (and their customers' workplaces) with agile values, practices, and metrics. This program is for anyone leading or participating in an agile transformation.
Agile Team Members/Aspiring Agilists. Everyone on an agile team is a leader — self-directed, self-organizing teams get more meaningful work done. To truly practice agility, learn what agile leaders do differently to prepare their teams to pivot powerfully in this volatile, uncertain, complex, and ambiguous world.
Managers. One of your challenges may be overcoming internal resistance to organization-wide agility. Certified Agile Leadership gives you practical tools to bolster your growth into an agile practitioner and leader, and helps you nurture yourself and senior management champions to solidify your efforts.
Organizational Decision Makers & Change Leaders. Put yourself ahead of the agile learning curve and discover the joy of taking an active role in sustainable business agility. The CAL program helps you embrace the agile values, practices, and metrics that drive agile decision making. Take the struggle out of transforming company culture by learning to embody a mindset of transparency, inspection, and adaptation.
Executives. Finding the time to nurture your own agility and discovering a meaningful role to play in an agile transformation is challenging. You desire to be more than just someone who authorizes hiring a consultant or coach. Certified Agile Leadership certification can quickly accelerate your learning curve and show you the active role you could play in a sustainable agile transformation. You'll also discover a personal transformation as you learn about your own internal leadership development.
Coaches/Consultants. Your challenge is to help clients navigate an agile transformation with a focus on the people and mindsets necessary to shift the culture. A CAL certification provides you the tools to help enact change, and distinguishes you in the field as someone who has acquired the defined knowledge of an agile leader.
The Leader in You … in All of Us. Finding out more about your personal leadership style can enlighten you and help you be more empathetic to everyone you encounter. This program can enhance both your career and your personal life.
The Scrum Alliance Certified Agile Leader I credential is no longer offered. If you currently hold CAL I, your credential continues to be valid without expiration and we honor that achievement.
Requirements
Attend eight hours of live instruction (per CAL module - Essentials, for Teams, and for Organizations) with your CAL Educator and successfully complete the associated learning objectives.
After completing a module, you must accept the License Agreement to receive your certification.
Maintain your CAL certification by earning Scrum Education Units® (SEUs) and renewing your certification every two years. Learn more.
For more information, please visit our Help Center.