Become a
Certified ScrumMaster


and Help Your Team Thrive.

What is a Scrum Master?

A scrum master is the scrum team member tasked with fostering an effective and productive working environment and guiding others to understand scrum values, principles and practices. Scrum masters tend to be people-oriented, have a high level of emotional intelligence, and find joy in helping team members to grow.

Whether you want to serve as a scrum master, are adopting scrum, or just need the tools to be more agile, our Certified ScrumMaster® (CSM®) course is the right place to start. You'll gain a solid understanding of scrum and learn practical ways to apply it on your team and throughout your organization.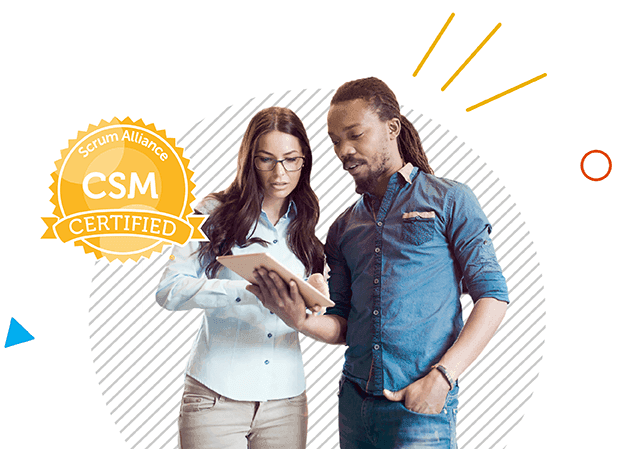 "My Certified ScrumMaster (CSM) class changed my life...
and I wasn't even new to agile or Scrum."
-
Sheila, Certified ScrumMaster
What

is the Certified ScrumMaster course?
If you're ready to grow more agile with Scrum, our Certified ScrumMaster® (CSM®) course is designed for you. You'll learn the Scrum framework and gain an understanding of team accountabilities, events, and artifacts as well as how to guide your team to apply Scrum.
Considered the gold standard of certification, the Scrum Alliance CSM course is an interactive and engaging learning experience. Taught by the most experienced and passionate agile trainers around the world, each CSM class can be personalized to meet students where they are in their learning journey.
CSM training gives you hands-on skills that you can immediately apply in the real world and expand your career opportunities. Once you complete the course, you will have everything you need to take and pass the CSM exam.
---
Who

should take the Certified ScrumMaster course?
Scrum Masters | Software Engineers | Business Analysts | Project Managers | New Scrum Team Members
Anyone new to the agile way of work will find value from the concepts covered in the CSM course. Scrum is applicable across industries and potentially cross-functional teams, so marketers, data scientists, HR representatives, and other professionals looking for a better way to solve complex problems are encouraged to attend.
The Certified ScrumMaster learning journey
The CSM is a great first step on an inspiring journey. As a CSM, you have the added advantage of joining the Scrum Alliance community, who can answer your questions, support your learning, and share in the joys and struggles you experience along the way. You can also mark your progress through continued education and advanced certifications.
Why

should I become a Scrum Alliance Certified ScrumMaster?
As a Certified ScrumMaster, you have the opportunity to:
Demonstrate your knowledge through the gold standard of agile certification.
Guide your team to effectively use Scrum and understand why Scrum values are so important.
Increase career opportunities and expand your professional community.
Improve leadership skills and influence organizational change.
Transform the world of work as a Certified ScrumMaster
Scrum and agile are changing the way people think about the world of work. This is your opportunity to be a part of that change.
Get Certified