Upcoming Course: Certified Agile Skills - Scaling 1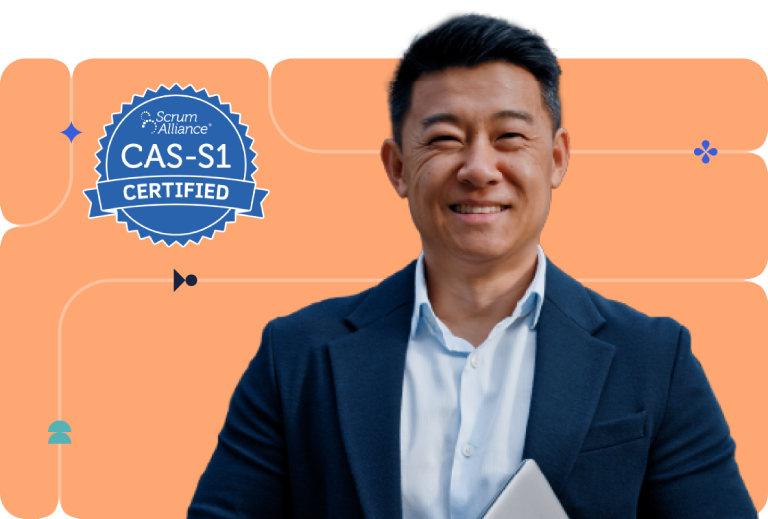 Learn New Skills for Scaling Agile Ways of Working
Scaling agile requires focused coordination, alignment of objectives, and change management within an organization to ensure that the flexibility, responsiveness, and customer-centricity that make agile effective on a small scale can be evolved and sustained on a much larger scale across enterprises.
The Certified Agile Skills - Scaling 1 (CAS-S1) course is tailored to organizational leaders, managers, and anyone wanting to ramp up agile scaling results.
You can supercharge your agile capacity and capability even if you're in the middle of an evolving scaling transformation or have never attempted scaling. This course is designed to meet you and your organization wherever you are in your journey to expand the benefits of agile teams across an enterprise.
What Will I Learn in This Agile Scaling Course?
Implement your strategy and deliver better results to your customers, faster. Scaling agility may be the right way to get there, and this course is designed to help you decide if scaling is the best path forward.
The topics covered in this course include the following:
Understand the definition of scaling agile product delivery
Find out why scaling so often fails
Align scaling efforts with your enterprise strategy
Achieve multi-team, multi-site agile product development to drive sustainable, lasting transformation
Please see the CAS-S1 Learning Objectives for an in-depth description of what you'll learn in this course.
Who Should Take the Scaling Course?
This course is suited for change agents—managers, executives, coaches, and anyone participating in scaling within an organization who needs adaptable guidance and a tailored approach to the core aspects of scaling.
The CAS-S1 course is right for:
Middle managers driving the change
Executives who believe in the change
Agilists who embody the change
Benefits of the CAS-S1 Scaling Certification
Ramp up the results of your agile efforts
Unlike prescriptive scaling frameworks, the CAS-S1 course equips you with the skills and knowledge to help you identify and explore principle-informed patterns that apply to your organization's unique and evolving context.
In this course, you will:
Develop the skills and mindset needed to consider an approach to scaling
Align your organizational principles with appropriate scaling patterns
Understand the need to evolve your scaling approach
Recognize the role of patterns in frameworks, improving the effectiveness of frameworks
Explore the use of 'scaffolding' to aid your organization in moving in the desired direction
Become a member of the world's largest global community of agilists with opportunities to connect with peers mentors, and subject matter experts
Next Steps to Agility That Evolves With Your Organization
Select a course from one of our experienced trainers and enroll
Become a member of a global organization and connect with your peers
Thrive in your career! Grow your agile skill set with the Learning Journey
Subscribe to Receive Updates
Be among the first to sign up for Certified Agile Skills - Scaling 1 when it opens for registration! Share your email address to receive updates about this course.